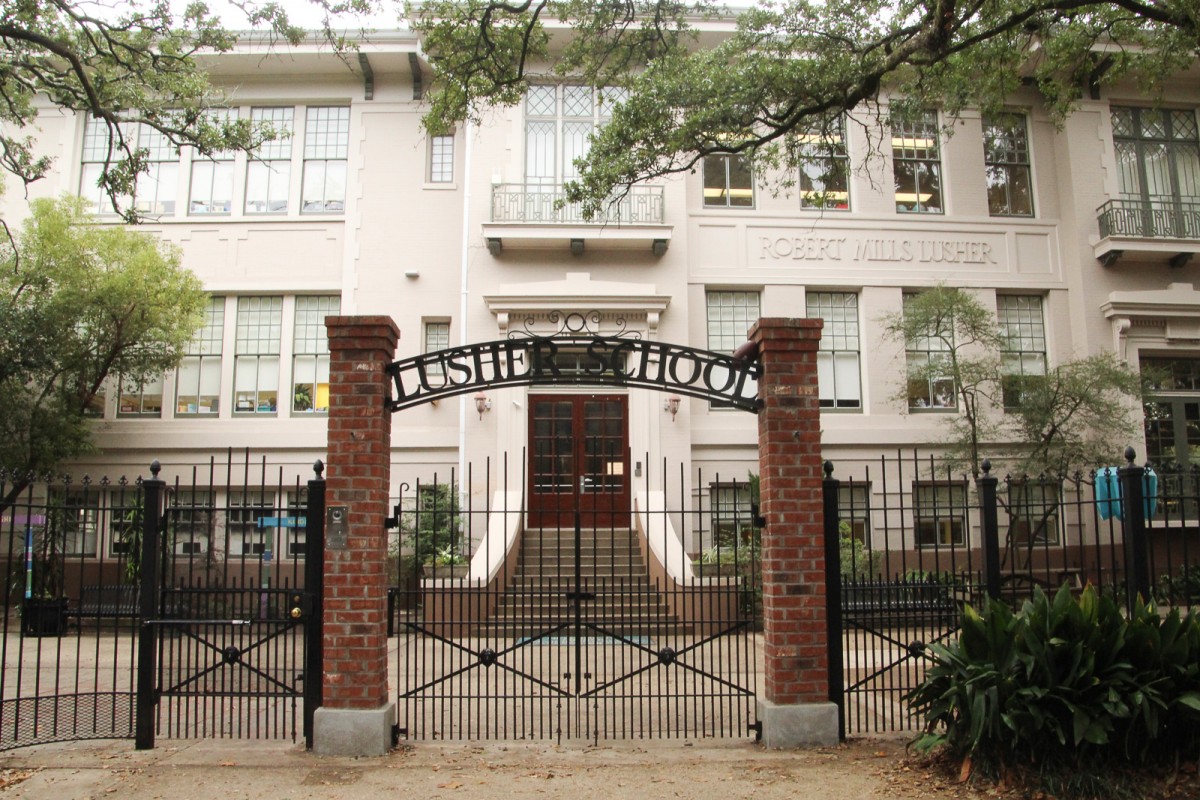 The Lusher Charter Board is voting to begin the process of renaming the school
The Lusher Charter School board voted Thursday evening to begin the process of changing the school's name after the Orléans Parish School Board and other local charter boards removed names associated with school segregation and confederation.
The K-12 school is named after Robert Mills Lusher, a Confederate civil war official who later served as the state regulator for education and was a strong advocate of school segregation.
The renaming process will only begin with the vote on Thursday. The board has not yet come up with a replacement name. The name Lusher will remain for the time being. After a 90-minute session in camera and without public discussion, the chairman of the board appointed a five-person committee that was to present the board of directors with three renaming options by November.
Lusher – which was founded as an elementary school in 1917 – became a charter school the year after Hurricane Katrina, when charter schools began to replace traditional district-run schools in New Orleans.
The Orléans Parish School Board already named the former Lusher building, which is owned by the district and houses Lusher's elementary school, in Dr. Everett J. Williams, Jr., the city's first black superintendent of the city's public school system, changed. Lusher high school campus, named after Alcee Fortier, who was also a racist, has been renamed after Elijah Brimmer, Jr., the school's longtime band director.
The Lusher Building was one of several district-owned buildings that the OPSB recently renamed because they were named after a slave owner, segregationist, or segregationist – a categorization that requires renaming under a board policy passed last year. (The board also renamed the former Alcee Fortier High School building that now houses Lusher's middle and high school.) Political language was proposed in June 2020 when a wave of protests swept through the country following the assassination of George Floyd Minneapolis swept police officer Derek Chauvin, who was convicted this summer.
But – the policy only applies to school buildings owned by the Orléans Parish School Board. While school names and building names are the same in traditional school districts, NOLA Public Schools consist exclusively of independent charter schools that operate under their own name. That leaves individual program name changes – like Lusher's – to their independently appointed school authorities.
Thursday's meeting began with a board meeting – parents and parishioners were disfellowshipped and the public frustrated. Board attorney James Brown justified the board's move to a board meeting, citing the attorney general's office, who believed that public boards of directors could meet behind closed doors to consult with their attorneys on legal matters. This is due to attorney secrecy recognized in the Louisiana Code of Evidence.
"Because attorney-at-law in Louisiana is required by law and is a matter provided by law that is an allowable basis for a board meeting to seek legal advice," he said.
Several parents and parishioners questioned the need to discuss the matter behind closed doors.
"You have the right to go to the board meeting; However, that doesn't mean you have to, especially given the importance and passion surrounding the subject, "mom Kelly McClure wrote in the comments.
"It is very confusing to me that you go to a board meeting to talk to each other when this topic is open," said mother Erin Greenwald. "It seems underhanded – which is the way this process took place. I would like to encourage you to have this discussion in front of the public. "
The board's lawyer advised otherwise.
"There are legal issues that need to be addressed and my advice to the client is to get this in attorney and client privilege," said Brown.
The parents sought clarity on how long the private session might last, but the board could not provide details. The board met privately for almost 90 minutes.
After the private session, board member Rachel Wisdom filed a motion to change the school's name. It then took the board 30 minutes of public comment – all in support of the change.
"I'm glad we're here. It's been a long year, "said Wisdom. "I fully support moving the name change forward, and I hope the rest of you will too."
"I agree," said board member Alysia Loshbaugh. "I think there was a section of the population who was injured when they were reminded of the segregation history of the school's name."
An 11th grade student identified as Ms. Jackson supported the decision.
"The story behind our school and its founding is hideous and downright heartbreaking," she said. "I received a great artistic education, but I cannot say that it harms my health and my constant concern for my safety."
"A white supremisist shouldn't have his name anchored in a school," said one parent.
"Voting on the name change is a first step and an important step in making the school a more inclusive community," said Greenwald. "Once that step is taken, I hope the board is ready to do the hard work to combat the toxic culture."
Greenwald noticed the departure of former headmaster Steve Corbett, who campaigned for racial justice.
"It was devastating, Dr. Losing Corbett as our headmaster. Please vote today for a name change, "said one student.
One parent who identified as a black person said her high school students were embarrassed to bear the school's name and that their elementary-age daughter also had questions.
"My second grader keeps asking why the school administration doesn't change the name of the school from someone who didn't want it at this school," she said.
The board unanimously decided to change the name of the school.
Board member Alysia Loshbaugh then proposed that a panel be set up to review names, take community input, and present three potential names to the board by the November meeting.
"There have been rumors that one of these options could be a descendant of Lusher and I hope the board won't take that into account," said one parent.
Without discussion from board members – President George Wilson appointed three administrators and two board members to the board to consider new names.
They are Executive Director, Planning and Administration Sheila Nelson, Transition Leader Charlene Hebert, CFO Charmaine Davis and board members Rachel Wisdom and Gary Solomon
"This is the group that we can trust to lead us through this process to three names to include in this process," said Wilson.